Okay guys, member Master Z came up with a really cool thread idea - The Boomboxery Pose.
Basically, let's see some cool pictures of y'all posing with your favorite boombox (or boomboxes) in the Boomboxery style.
Here's the logo: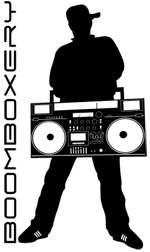 So, put your camera on a tripod or get a friend to help, and get some pictures!
(I'll work on mine in the A.M.)